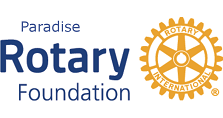 In 2008 our club formed a California non-profit foundation. The Paradise Rotary Foundation a 501c3, has a mission to support the efforts of the Paradise Rotary Club and Rotary International. The Paradise Rotary Foundation functions separately from the club. The foundation's board has six directors, all of which must be members in good standing of the Paradise Rotary Club. The directors serve a 3-year term with 2 terming out each year. The Club's President serves as one of the directors and is encouraged to sit in on board meetings as soon as they become President-Elect.
The Foundation has funded numerous local and international projects. It has donated over $30,000 in Mini-Grants to Paradise Elementary Classrooms. It funds two college scholarships each year for Paradise students and funds two students to attend a week-long leadership training camp.  The foundation regularly supports the Paradise Boys and Girls club and numerous other local worthy causes.
Internationally the Foundation has funded two water projects in Tanzania. These funds were matched both by Rotary District 5160 but also by Rotary International tripling our contribution to these critical projects. We also are funding projects in Mexico, converting buildings into classrooms.
Recent changes in the bylaws of the foundation have laid the groundwork for the foundation to accept endowments, allowing members and civic-minded citizens to leave a lasting legacy to our community and world.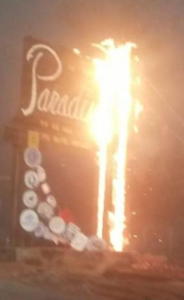 Since the November 8th, 2018 Camp Fire that devastated our entire community our Foundation has assumed the  role of disaster recovery. Of our 80 Rotarians, 75 either lost their homes, businesses or both so we are doing our best to help our community recover as well as taking care of our families and employees. Our Foundation is comprised of 7  board members, all of which are Paradise Rotarians and all lost their homes and businesses.
To date, the Foundation has received 1.6 million in donations from all over the world. It has been fantastic to see the generosity of our fellow Rotarians. The day after the fire as we were all scrambling to find a safe place to stay the Sonoma Rotary Club and its members started our GoFundMe site "paradisestrong.org" and got the word out that we needed help. Their area suffered from a devastating fire the year before and they knew what it would take for us to recover. They spent numerous hours not only getting the word out but also raising thousands for our recovery.
Our initial plan was to make gift card distributions for the first 60 days after the fire then distribute funds through a  grant process thereafter.  Our Rotary members some of whom still have offices and staff volunteered to make deposits, process donor letters and make gift card distributions. To date, we have given out over $80,000 in gift cards to those who lost their homes and did not have renters or homeowners insurance or those whose jobs were affected by the disaster. These distributions were conducted through one of our member's organizations that runs our Family Resource Center.
Moving forward we are helping rebuild our communities social and physical infrastructure that was destroyed by the fire. We have set up a grant process to make that happen.  In speaking to fire victims it is not the loss of their belongings and their home that hurts the most but it is the loss of their entire community that is the most devastating. Our goal is to bring back that sense of community and make our town the Paradise it once was.  Business and organization grants applications are available at http://paradiserotary.org/business-grant or http://paradiserotary.org/organization-grant-application.
To keep helping please share our GoFundMe page at https://paradisestrong.org.
It is the outpouring of support both in monetary contributions and actions by Rotarians, Clubs, Districts and Rotary International that makes your efforts so special. Please pass this on to your Rotarian Friends, Club, District and Rotarians Worldwide. The joy is in the giving and serving as Rotarian's.
Paradise Rotary Foundation, 116 Henshaw Ave, Suite C, Chico Ca 95973
www.paradiserotary.org – Email: foundation.paradise.rotary@gmail.com